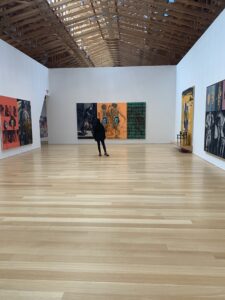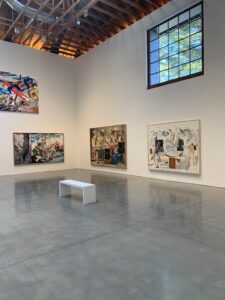 Brant Foundation Art Study Center in Greenwich Is Now Open to the Public
Current Exhibition: David Salle
If you live in the Round Hill area and are looking to get out of the house this winter and experience an excellent, curated art exhibition, you don't have to travel very far.  It is a short drive up North Street just south of Banksville, NY at The Brant Foundation Art Study Center in Greenwich, where over 40 works of post-modern visual artist David Salle are on display.
The purpose of the Brant Foundation Art Study Center is to promote the education and appreciation of contemporary art and design.  In Greenwich, it is housed in an original cold storage barn built with stones from the farm/estate of E. C. Conyers 110 years ago.  In 2009 the outside was restored and the inside converted into a modern two-story gallery that looks out on the polo fields and traditionally hosts two long-standing exhibits per year.  The interior space is comparable in design and execution to a contemporary urban museum, but surprisingly this contemporary interior resides in a century-old rural barn.
According to his published information, David Salle has worked in several mediums but is best known for his "psychologically searing paintings that juxtapose incongruent forms of representation, from the erotic to the art-historical to the flux and flotsam of everyday life."  The current BFASC exhibit is the first in the last two years at the center, when it was closed for the pandemic, and contains Salle's first comprehensive survey in 20 years from his 40 years of work.  The exhibit opened in November and runs until April 2, 2022.
Admission is free but reservations are required to visit on Tuesday-Friday. Daily docent-led tours can be reserved here, and self-guided tours may also be done.  Hours of operation are Tuesday through Friday from 10:00 AM – 4:00 PM and Saturday from 12:00 noon – 3:00 PM.  Saturday hours are "open house" and no reservations are required for admission or the tour, which takes place at 1:00 pm each Saturday. The BFASC is closed on Sunday and Monday.  For more information, the phone number is (203) 869-0611, and the website is brantfoundation.org
The Brant Foundation Art Study Center is located at 941 North Street in Greenwich.  Going north on North Street, look for a large stone barn on the left or west side of the road next to an immense outdoor art structure.