RHVFC doesn't just protect human life, but wildlife as well. David Chass, President of the RHVFC was alerted late Monday  afternoon that an owl was struggling in fishing line suspended from tree branches over the South Stanwich Causeway.
Immediately he, Jeffrey Raiente, a Captain of Glenville Fire company and Sharon Strain, Assistant Chief of RHVFC, set out to rescue the bird whom you see in photos here. Strain and Chass worked to get hold of the owl, as it was held in the fishing line. The owl struggled as it was captured, injuring Strain slightly with its talons. Strain was later treated at Greenwich Hospital. Chass held the owl while Raiente worked to free its
wing from the fishing line.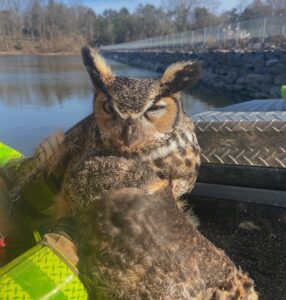 Since local Animal Control had closed for the day, the owl was delivered to Christine's Critters, a wildlife rehabilitator of Raptors, located in Weston, CT. The owl was examined by a veterinarian today and said to be doing well, but only time will determine whether the owl will recover completely. The veterinarian identified this as a female owl, an important fact, because there may be young owls in a nest or even
a clutch of eggs.
The RHVFC requests that birders and nature lovers be on the lookout for an owl nest in the area of the South
Stanwich reservoir. If anyone finds a nest or sees evidence of an owl circling that area
please contact David Chass at 201-981-1920 or david.chass@roundhillfiregreenwich.org