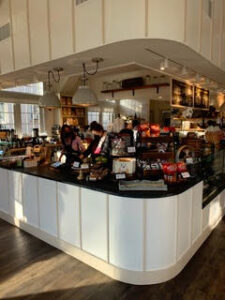 Along with the beginning of a new year, 2022, backcountry and Round Hill residents have a new nearby local food experience to try in Glenville.  The Country Table, located at 1 Glenville Street by the Byram River bridge, opened on January 10 in a restored and modernized building with exterior Italianate detail which was originally constructed in 1855 and rebuilt in 2013.
The vision and execution is the creation of co-owners chef Geoff Lazlo and Greg Oshins who have been Greenwich childhood friends from Brunswick School days.  Geoff was trained at the C.I.A. (Culinary Institute of America) and worked at several well-known restaurants in the Bay area and New York, while Greg has experience in commercial real estate ventures.  This retail space is an extension of their catering company, Geoff Lazlo Food, already in operation.
The Country Table has a broad combination of specialty food offerings for breakfast, lunch, and dinner with fresh regional ingredients for gourmet sandwiches, made-to-order salads, house-made prepared entrees, premium coffees, homemade loaves of bread and baked goods, as well as ice cream cones. Breakfast and lunch customers can sit inside at small 2-3 person tables or take out with them, but dinner food is take out only.  Eventually, there are plans to offer a home delivery service.
The inside space has great lighting with high windows and ceilings surrounding the center area where all the food preparations are happening.  There is a lively vibe from the atmosphere, and the focus on service is evident from the staff.  Jody Lazlo, Geoff's wife, says they want the place to have a community feeling and place for customers and families to feel comfortable and connect with each other.  She iterated the menu and offerings will evolve with seasonal changes and customer feedback.
There are five parking spaces in the front with more behind the store. In addition, parking is done on the side street (Angelus Drive) off Glenville Road next to the store.  The telephone is (203) 701-4340 and the website is
https://country-table.com/
for placing an order.  Hours are Monday-Friday 7:00-4:30, Saturday 8:00-3:00.
Based on three separate visits to The Country Table this week at different times, it seems to be filling a need in the revitalization of Glenville.  Initial store traffic is continuous throughout the day and seems to be higher than expected.
Tim Werbe