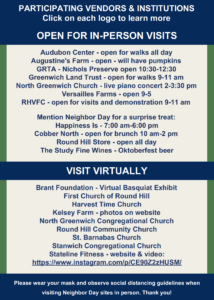 After six months of Covid isolation we are ready for an autumnal celebration provided to you by the Round Hill Association (RHA). On October 3rd, in the "Season of mists and mellow fruitfulness" as John Keats described autumn, the RHA, will sponsor its second annual Neighbor Day.
You can wander the lush fields and gardens of the Land Trust from 9-11 am and also watch demonstrations by fire fighters at the RHVFC next door during the same hours. Across the street the Round Hill Store will offer complimentary coffee and cider all day if you mention Neighbor Day. Then you can head to the GRTA's Nichols Preserve for a walk. The trails will be open between 10:30 and 12:30 pm.
After a brisk walk, what better way to indulge yourself on Neighbor Day than to drive to the Griff on King Street for brunch, offered between 10am and 2pm, and if you mention Neighbor Day you will be offered a Mimosa, compliments of the house.
After your relaxing brunch, pick up a pumpkin for yourself and one for a friend at Augustine's, before you select some gorgeous organically grown vegetables from Versailles Farms, open from 9-5 pm. Maybe pick up some flowers to drop off at your homebound neighbor's porch.  Missing live performances?  The beauty of music? Catch a live drop-in piano concert at North Greenwich Church from 2:00-2:30 with Juilliard pianist Carlos Avila.
Thus fortified, take yourself on another walk. The Audubon Center, open from 9-5pm, will have a Hawk Watch in addition to open trails. After wandering all over Backcountry's wonderful sites you will need a snack from Happiness Is, in Banksville, open between 7 am and 6 pm. Mention Neighbor Day and you'll get a surprise treat!  Quench your thirst when you visit The Study Fine Wines where you will receive an Oktoberfest beer compliments of Katie and Noah!
Many RHA Neighbor Day participants, unable to have in person visits, are offering virtual celebrations on their websites. The Brant Foundation has a website with a fantastic exhibit of Basquiat art. Check out Kelsey Farms website for winsome photos of horses as well as that of Stateliness Fitness where a lady we know, who is buff and energetic, trains twice a week with Craig.
Our backcountry religious institutions are also participating in the RHA Neighbor Day by offering special prayers for all of us who live in the area and for the day. See logos and link to their websites below.