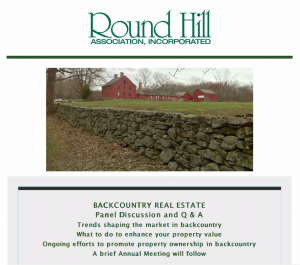 Backcountry resident and Round Hill Association board member, Brendon DeSimone, will moderate a discussion with local real estate experts about the trends that are shaping the real estate market in backcountry, what homeowners can do to enhance their property values, and the ongoing efforts to promote property ownership and life in backcountry Greenwich.
Light refreshments will be served at 6:30. The panel discussion will begin promptly at 7.
A question and answer session will follow the panelists' remarks. This will be followed by a brief Annual Meeting. Admission is free.
Panelists
Carolyn Anderson is the publisher of The Anderson Guide to Enjoying Greenwich, CT and Managing Director of Anderson Associates, an independent real estate firm specializing in residential real estate.  Mrs. Anderson has been a member of the Greenwich Association of Realtors for seventeen years and currently serves as its Vice-President. In 2011, she was elected to the Real Estate Hall of Fame for her service to the real estate community and to Greenwich.  Carolyn Anderson will speak about:
Tips for Improving the Sales Potential of Your House, What Buyers Want in Greenwich and Why Pricing Matters.
Mark Pruner is a real estate attorney as well as a frequent speaker and writer about real estate. He has resided in Greenwich since 1967 and in backcountry for twenty years.  Mark is a real estate agent with Berkshire Hathaway Home Services and a past President of the Round Hill Association.  Currently, he serves on the Real Estate Board of Appeals.  Among the other boards on which he has served are the Republican Town Committee,
The Greenwich Bar Association, and The Affordable Housing Commission. The writer of Real Estate Dashboard, a weekly column in the Greenwich Sentinel, Mark Pruner will speak about: Property Values in North Greenwich from 2005 to 2019.
Paul Pugliese, a graduate of the Yale School of Architecture and a partner of Greenwich Land Company, has served on the Architectural Review Committee for ten years.  He has also served on the boards of the Greenwich Association of Realtors, The Greenwich Presidential Trust, and Greenwich Property Owners Association.  Mr. Pugliese, an advocate for sound land use planning, has campaigned for protection of individual property rights and protection of land value through predictable regulatory processes.
Paul Pugliese will update attendees on recent decisions made by the Planning and Zoning Commission and the Architectural Review Board, which will affect property owners.
Moderator
Brendon DeSimone writes a weekly real estate column for the Zillow Blog and is the author of Next Generation Real Estate; New Rules for Smarter Home Buying and Faster Selling. A 15-year veteran of the residential real estate industry in San Francisco, NYC and Westchester, Brendon is a regularly featured guest on major television networks and programs including CNBC, FOX News, Bloomberg, Good Morning America, ABC's 20/20 and HGTV. Brendon is the brokerage manager of the Bedford and Pound Ridge offices of Houlihan Lawrence.